Light-and-Powerful
With torque densities as high as 20 Nm/kg and efficiencies greater than 95% – for the combined motor and controller – MAGiDRIVE™ achieves the highest performance and easiest to use direct drive system in the industry.
Plug-and-Play
The highly integrated MAGiDRIVE enables you to focus on aircraft design rather than spend time integrating motors and controllers. Do not accept compromises with sub-optimal motor/controller integration!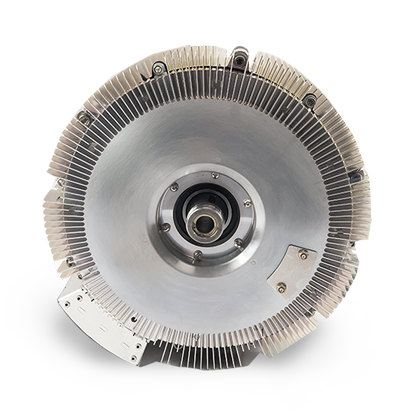 MAGiDRIVE 75M with OD of 11" (including cooling fins) and length of 5". This complete integrated electric drive system combining the motor and controller is capable of 130 Nm of torque, power levels up to 60 kW, and weighs approximately 11.0 kg.
Advantages
Integration of the highest performance electric machines and power electronics in the industry

Unparalleled reliability and ease of use (we do the integration and optimization for you)

Rugged in-runner design with low vibration and environmental ratings up to IP67

Air cooling for both motor and controller

Minimized cable weight and power loss and dramatically reduced EMI

Tightly integrated high bandwidth feedback and health monitoring

Fully digital sinusoidal vector control provides highest efficiency and lowest DC bus ripple

Highly customizable mounting, prop hub, and interface options
Available Features
Fully bi-directional four-quadrant operation (motor and generator in both directions)
DC bus voltages ranging from 24V to 800V (depending on model)
Communications options including CAN, RS485, PWM, Ethernet, and more
Control modes including Torque, Speed, Power, and more
Hollow shafts for variable pitch mechanisms and pitot tubes
Integrated temperature, vibration, and health monitoring
Integrated Electronic Circuit Breaker
Major advancements in powertrain performance and reliability, never before possible, are realized in MAGiDRIVE through exacting optimization of motor and controller together as a system.
Download PDF Datasheet, featuring product specifications and customatization options.
MAGiDRIVE products are currently available in sizes from 4.1" to 18.5" diameter, with torque capability up to 1000 Nm and power levels up to 300 kW.
| | | | | | | | |
| --- | --- | --- | --- | --- | --- | --- | --- |
| BASE MODEL | 6 | 12 | 20 | 40 | 75 | 150 | 300 |
| TORQUE RANGE, Nm | 4 - 10 | 9 - 25 | 20 - 50 | 45 - 100 | 90 - 225 | 200 - 500 | 470 - 1000 |
| POWER, kW (120s duration) | 6 | 12 | 20 | 40 | 75 | 150 | 300 |
| POWER, kW (continuous) | 5 | 10 | 16 | 32 | 60 | 120 | 240 |
| SPEED, RPM (maximum) | 8,000 | 7,000 | 6,200 | 5,500 | 5,000 | 4,200 | 3,600 |
| WEIGHT RANGE, kg | 0.70 - 1.2 | 1.5 - 2.8 | 2.9 - 4.8 | 5.0 - 8.9 | 9.0 - 16.5 | 16.1 - 29.7 | 29.4 - 49.5 |
| EFFICIENCY %, (typical) | 90.5 | 91.5 | 92 | 92.5 | 93.5 | 94.5 | 95.5 |
| OUTER DIAMETER, Inch | 4.1 | 5.6 | 7.1 | 8.8 | 11.0 | 14.2 | 18.4 |
| LENGTH RANGE, Inch | 2.5 - 3.2 | 3.0 - 3.9 | 3.5 - 4.3 | 4.0 - 5.1 | 4.6 - 6.0 | 5.3 - 6.9 | 6.1 - 7.6 |
MAGiDRIVE™ a MAGicALL PowerCycle™ Product